The Christmas Bakery is here!
From our Limited Edition Gingerbread Humans, to our new Carob Crackers, with luxury stocking fillers to personalised Christmas biscuits in festive flavours 🎅
SHOP THE CHRISTMAS RANGE
Bespoke Bakes for Businesses
We offer a unique branded dog biscuit service, providing custom dog biscuits for any occasion, from brand launches, events, to stocking biscuit jars in dog-friendly shops!
Find Out More 🐶
Baked Fresh To Order 👩‍🍳
Our personalised biscuits are freshly baked to order using only the highest quality, organic, natural ingredients.
Order Personalised Biscuits 🎁
Our Featured Pup-Stars! 📸
Our top picks of some of the lovely pups who've tagged us on our social media @afternonpaws !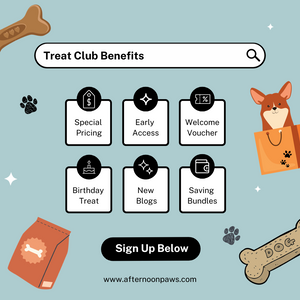 Join The Treat Club
A members only treat club - just for dogs!
Just pop your email address in the newsletter sign up box at the bottom of the page for exclusive access to discounts and new treat launches!
Find Out More