•
At Afternoon Paws, we believe that every pup deserves a little extra love and excitement in their meals. That's why our Bark and Brunch Pancake Kit is such a hit! Whether you're celebrating Pancake Day, a special occasion or just want to switch up your pup's breakfast routine, our pancakes are the perfect blank canvas for you to get creative! ❤️   🥜 Peanut Butter: A classic and much-loved option, peanut butter is packed with protein and healthy fats that dogs love.   💙 Blueberries: These little fruits are high in antioxidants and vitamins, making them a healthy and tasty option...
---
•
🐶 As pet owners, we all want the best for our furry friends. From the food they eat to the toys they play with, we strive to provide them with the highest quality products. 🌿Chickpea flour, also known as gram flour, is made from ground chickpeas and can provide numerous health benefits for your dog. 🐾 First and foremost, chickpea flour is a great source of protein for dogs. Protein is essential for building and repairing muscle tissue, as well as maintaining a healthy immune system. Chickpea flour is also a good source of fibre, which can aid in digestion and keep...
---
•
Dogs are known for their love of food, but have you ever wondered how their taste buds compare to our own? As it turns out, the way dogs taste and experience food is quite different from humans. First off, dogs have fewer taste buds than humans. While we have around 9,000 taste buds, dogs have only around 1,700. This means that their sense of taste is not as acute as ours. However, this doesn't mean that they don't enjoy their food just as much as we do.   Dogs also have a different set of taste receptors than humans. They...
---
•
At Afternoon Paws, we understand the importance of preserving our planet for future generations, including our furry friends. That's why we make it a priority to give back to the earth in every way we can. 🌍🐾 One of the ways we do this is by planting a tree with every order placed on our website, with the amazing team at Ecologi. One of the organisations they work with is the Eden Reforestation Project, an organization that plants trees in areas of the world that have been devastated by deforestation.  Through our tree donation in 2022, one of the areas...
---
•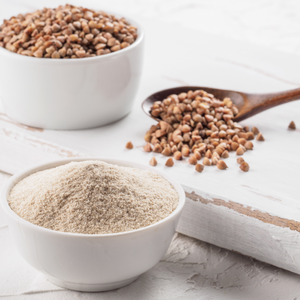 Buckwheat is a great option for dogs with gluten sensitivities or allergies. It is a highly nutritious and easily digestible grain that is packed with essential nutrients such as protein, fibre, and minerals.